28th Annual Russian Orthodox Church Musicians' Conference  •  October  2 – 6, 2019
---
Continuity and Growth:  Ensuring the future of Liturgical Chant in our Parishes
Сохранение традиций в дальнейшем развитии церковного пения
---

Holy Epiphany Russian Orthodox Church – Boston (Roslindale), MA
Holiday Inn Boston-Dedham Hotel & Conference Center
This year's conference will focus on the very future of Orthodox church singing – how to nurture your church choir to sustain it and even grow – to attract new and inspire existing singers, both from our youth and all ages.
Featured Faculty
---
Dr. Peter Jermihov

Born in Chicago of Russian-émigré parents,
Peter Jermihov
is an American conductor with Russian roots. A student of legendary, master teacher–Il'ya Musin, he has cultivated a versatile career by combining professional conducting engagements with teaching appointments, choral with orchestral conducting, and music-making with research. An internationally recognized specialist in Orthodox liturgical music, Jermihov is also a devoted proponent of East-West cultural exchange…   
Read more…
---
Abbot Lazarus (Gnativ)

Due to visa complications, Abbot Lazarus will not be able to participate in this year's conference. We look forward to Abbot Lazarus' joining us for future conferences!
Abbot Lazarus is Dean of the School for Choir Directors at the Moscow Theological Academy (MDA). He is also chairman of the MDA Culture Commission, teacher in the Department of Biblical Studies and the School for Choir Directors of the MDA, regent of the Pokrovsky Academic Church Choir, and teacher at the Center for Theological Education of the Military at St. Tikhon Orthodox Humanitarian University.
---
---
Konevets Quartet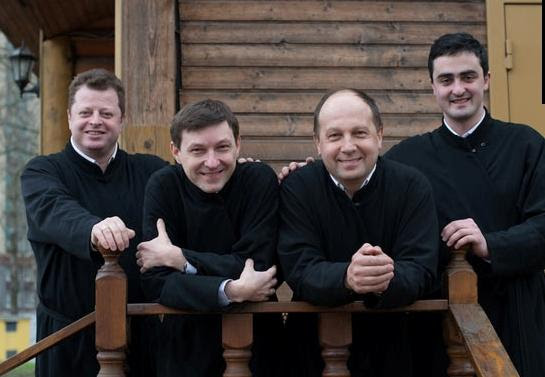 The
Konevets Quartet
was founded in 1992 by four young musicians from the St Petersburg Conservatoire who were singing in the choir of the Konevets Monastery of the Holy Nativity on the island of Konevets in Lake Ladoga. University. All the members of the ensemble studied at the St Petersburg Glinka Choir College. Trained in the tradition of Russian song, the Konevets Quartet is not just a group of individual soloists, but is in essence a chamber choir dedicated to creating a perfectly harmonious ensemble sound.  
Read more…
---
The 2019 Russian Orthodox Church Musicians' Conference is
---
---
In Previous Years:
2017 Conference
in Los Angeles, California
The Media Department of the Western American Diocese has published a video report on the 26th Annual Russian Orthodox Church Musicians' Conference held in Los Angeles, CA, from the 4th to the 8th of October, 2017.
The film features scenes from the Divine Services at the Holy Transfiguration Cathedral and examples of the choir's performance, excerpts from lectures by His Grace Bishop Theodosy, Priest Dmitry Bolgarsky and Protodeacon Vadim Gan, as well as brief interviews with organizers and participants of the conference.
Choir conductors during the Divine Services shown in this film are Reader Vladimir Krassovsky, Reader George Skok, Andrei Roudenko and Peter Fekula. Two of the hymns performed on the video are "A mercy of peace" ("on the Destruction of Moscow") harmonized by Michail S. Konstantinov and "Now lettest Thou Thy servant depart in peace" by nun Juliania (Denisova).
Many thanks to the sponsors of this conference including the Fund For Assistance to the Russian Orthodox Church Outside of Russia.